'I feel abandoned,' says daughter of ex-footballer Frank Lockey over denial of legal aid for his inquest in Norwich.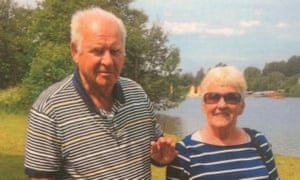 The family of a former footballer who died in a struggling dementia hospital will have to represent themselves at his inquest this week after being denied legal aid.
Frank Lockey, 84, who was on Liverpool's books in the 1950s, was found dead in his chair at Norwich's Julian Hospital in August last year. The grandfather from Dereham, Norfolk, had been admitted six months earlier suffering from Alzheimer's and Parkinson's disease.
His family claim he was neglected by staff at the NHS mental health facility and suffered more than a dozen unexplained injuries, lost nearly three stone in weight, and was often found sitting in the dark in soiled clothes that were not his own, or in a medicated "zombie state".
Videos and photographs taken by the family, which are due to be shown at the coroner's court on Monday, appear to show cuts and deep bruises on his body. In one video he says: "Help me."
Gary Page, the chairman of Norfolk and Suffolk NHS Foundation Trust, stepped down last week, saying it was in the organisation's best interests for him to leave before the end of his term in 2019. The trust was ratedinadequate by the Care Quality Commission (CQC) in October last year, two months after Mr Lockey's death, and placed in special measures. It had been taken out of special measures in 2016.
In 2016 the trust was also fined £366,000 for health and safety failings after dementia patient Joan Darnell, 78, drowned in a bath at the same hospital.
On Monday, Mr Lockey's daughter, Tina Lockey, 54, will have to question NHS doctors and police officers herself at Norwich coroner's court after being turned down for legal aid. She said that the family felt "abandoned to fight for the truth ourselves".
The single mother, who has recently finished treatment for triple-negative breast cancer, told the Observer that she had prepared her case with a family friend, who helped her go through 4,000 pages of documents.
Ms Lockey, who was her father's full-time carer along with her mother, Margaret, before he went into hospital, said: "My father was living in a threatening, hostile, neglectful, uncaring and fearful environment. We asked over and over again where the injuries had come from and no one would tell us.
"After he died I went to four solicitors, but no one would take it on. Even the coroner's assistant said, 'You have got to find someone.' I said, 'I can't afford it.' It would cost us thousands."
She added: "He was a good grandad and a good person. The last time I visited him he said: 'Save me Tina.' After he died I visited him in the morgue and I made him a promise. On Monday it will be me against the NHS and their solicitor. It has been a heartbreaking struggle of a year."
A Serious Incident Requiring Investigation report (Siri)gave a preliminary cause of death as heart disease and Alzheimer's, which the family disputes. The report identified Mr Lockey's Parkinson's as the reason behind his falls, frequently citing his "aggression" to staff and other patients as well as details of his "constipation".
The Norfolk Safeguarding Adults Board confirmed that a referral was made in September last year for a review into Mr Lockey's death, but that after consideration it "did not meet the criteria" where an adult had died or suffered from abuse or neglect.
A spokeswoman for Inquest, a charity that helps families investigate state related deaths, said it was unacceptable the family had not been given legal aid. "Inquests provide an opportunity for families to ask questions and establish the truth," she said. "Unrepresented families face a huge disadvantage given that state bodies and private providers are almost always legally represented."
Mr Lockey, from Dunbartonshire in Scotland, was signed by Liverpool in 1956 and later played for Boston United and Swindon Town. He moved to Norfolk in the 1980s to be closer to his children and grandchildren. 
In the Siri report, Catherine Howe, investigation and improvement manager, wrote: "Our purpose in investigating incidents is to learn lessons. We need to learn what went wrong and why, that we can improve our services, and most importantly prevent another family suffering what yours has been through."